Restaurants in South Africa
South Africa is special for countless region – its sheer and utter natural beauty, the deep heritage that pulses through its veins, the warmth and hospitality of its people, and the absolute sense of adventure that it inspires in those who have come to love this land. But, South Africa is also a key player in the global sphere of gourmet dining and culinary innovation.
There are massive urban metropolises – like Johannesburg, Cape Town and Durban – in which some of the finest dining can be savoured within chic surrounds. But, there are also little retreats like Franschhoek, which has been dubbed the food and wine capital of South Africa, and is bursting at the seams with fantastic eateries that will guarantee that diners are plunged into a gourmet Nirvana.
Rated by Condé Nast Traveler in 2017 as The Best Food City in The World, here is what they said about Cape Town: From sipping regional rosé on Table Mountain to scarfing hake and fries at Kalky's, there's a breezy simplicity to Cape Town's iconic eating experiences.Condé Nast Traveler
The farmlands are speckled with stalls and country-style restaurants, where local flavours, techniques, and age-old traditions infuse every dish. The coast is littered with quaint fishing towns and seaside resorts that showcase the freshest seafood within laid-back elegance. And the mountains, forests and valleys are home to an eclectic collection of eateries with views that will take your breath away.
For the foodie/gourmand, we recommend
Many of our hotels and luxury guest houses boast on-site restaurants or bistros. Here, guests can enjoy exceptional food and irresistible flavours, complemented by superior service. Stay overnight at one of these fine properties for the ultimate in comfortable accommodation and top-notch meals.
Dining in South Africa is as multi-faceted an experience as the people themselves. There are quaint country bistros, bustling urban bakeries, trendy coffee cafés, vibey cocktail bars, fine dining and silver service restaurants, and convenient take-aways. The menus are laden with South African favourites, but there is plenty of influence from Europe and Asia to create dining hotspots with a distinct cosmopolitan vibe.
Experience the utterly magical allure of South African when you work your way through its delectable restaurants for the culinary getaway of a lifetime.
South African Restaurants by Province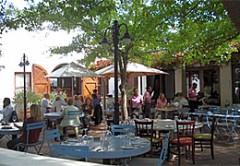 Western Cape and Cape Town
Overnight? Cape Town, Western Cape
The many towns and cities of the Western Cape are littered with eateries. These range from sidewalk cafés and takeaway joints, to gourmet restaurants with world-class chefs; from trendy cocktail bars overlooking the ocean to wine estates in the ...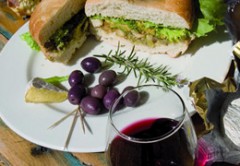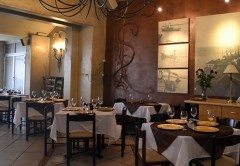 Eastern Cape
Overnight? Port Elizabeth, Eastern Cape
Port Elizabeth, East London, and Jeffrey's Bay are the bigger centres in the Eastern Cape. Here, there are fast-food outlets, gorgeous buffets, quirky cafés and formal restaurants with unique twists. There are also many eateries that introduce international ...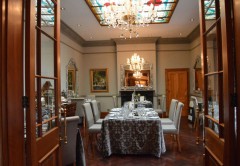 KwaZulu Natal
Overnight? Durban, KwaZulu Natal
The urban hub of Durban is brimming with culinary delights, which range from top-notch restaurants to laid-back take-aways, cosmopolitan cocktail bars, and inviting coffee cafés. There are vibey spots that are ultra-cool, more traditional retreats ...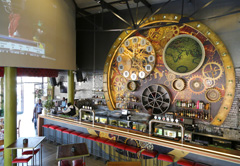 Gauteng
Overnight? Johannesburg, Gauteng
Gauteng is home to Johannesburg, Pretoria, and Centurion, as well as many smaller towns and areas. The streets of these bustling metropolises are flanked by vibey restaurants for weary shopaholics, tourists that are perusing and photograph ...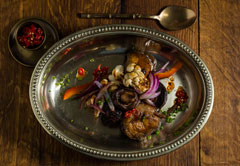 Mpumalanga
Overnight? Nelspruit, Mpumalanga
There are a number of little towns scattered throughout the loveliness of Mpumalanga, and these are home to a wonderful variety of restaurants. These range from charming little country retreats that serve the finest in traditional boere kos ...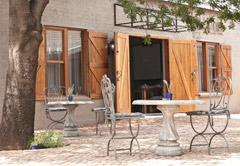 Limpopo
Overnight? Hoedspruit, Limpopo
There is a wide variety of fantastic places to enjoy a hot cup of coffee, a refreshing cool drink, a delectable meal, and a glass of the excellent wines for which South Africa is famous all over the world. Many of these restaurants are incorporated into ...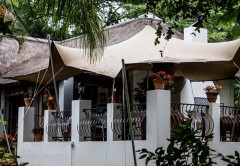 North West Province
Overnight? Rustenburg, North West Province
Sun City is the top tourist attraction and holiday hotspot in the North West Province of South Africa. It is a glitzy, glamorous resort with plenty to see and do, and it boasts a number of excellent restaurants. Some of these have a fabulous ...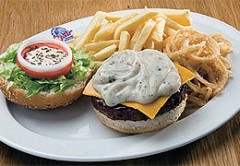 Free State
Overnight? Bloemfontein, Free State
History and culture converge in the Free State Province of South Africa, which is laden with rolling hills and sprawling fields of wheat, maize and sunflowers. It is within these scenic surrounds that a number of pubs, restaurants, coffee cafés ...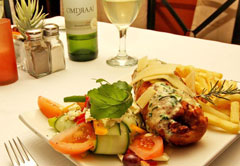 Northern Cape
Overnight? Northern Cape
Kimberley and Upington are the major epicentres of the Northern Cape, and boast a number of eateries. Some showcase local flavours and dishes, while others are influenced by European and Asian styles of cooking. Inviting coffee ...
Additional Reading
Related Pages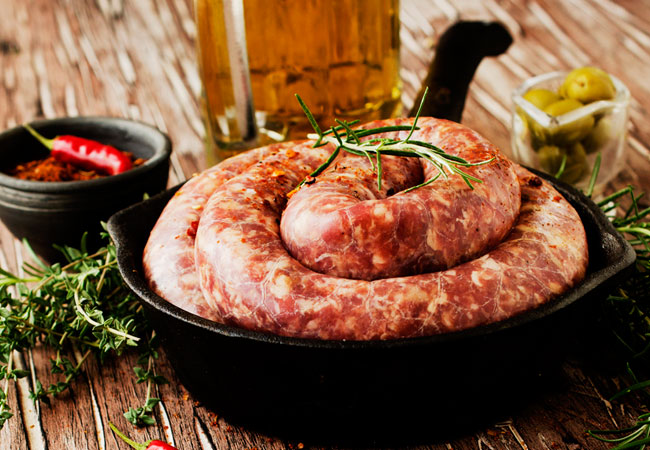 South African cuisine is a unique fusion of many different external cultural influences. These include Dutch, French, Indian and Malaysian flavours and techniques that continue to make their way onto the menus of restaurants and into the homes of locals all over the country ...