South Africa Jacuzzi / Hot Tub Accommodation Directory
There's no doubt about it, South Africa can only be described as special. There's just so much here that sets it apart as a destination.
It's a place of magnificent coastlines, impressive mountain ranges, plunging valleys, verdant forests, vibrant cities, quaint towns, and more. It has a great climate almost all year round and is perfect for family holidays, memorable honeymoons, adrenalin-junkies, and anyone that wants to enjoy the best safaris on the planet.
And, because it has so much to offer, South Africa also has an incredible array of accommodation venues. There is everything from game lodges and stilted log cabins to boutique hotels, swanky city penthouses, cosy guest houses, farm cottages, and home-away-from-home bed and breakfasts. Some of these stunning venues have one more thing that makes them extra-special ... an outdoor hot tub.
There are few better ways to enjoy the pristine landscapes and 360-degree vistas of South Africa than from the soothing, inviting waters of a hot tub. Book one of these venues for a very special way to experience this magical destination.
SA-Venues.com presents a selection of hot tub accommodation in South Africa. Hotels, guest houses, bed and breakfasts and self catering properties which have been equipped with a jacuzzi or hot tub for the discerning holidaymaker (as claimed by the properties).
Disclaimer / Guest Responsibilities
Remember, planning ahead can make the difference to a successful holiday or one filled with frustration. Please contact the establishment prior to arrival and make sure that all of your requirements will be met.
Hot Tub Accommodation
The establishments listed in this section have indicated that they have at least one guest room which has been equipped with either a jacuzzi or a wood fired hot tub, or there is a jacuzzi on site for the use of all guests. Please confirm with the property should you have a preference, to ensure that your choice will meet your requirements.
Popular hot tub accommodation
View Jacuzzi / Hot Tub Accommodation by Province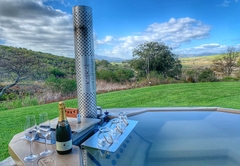 Western Cape
Pictured: Goedvertrou Guest Farm in Stanford
The city of Cape Town and the many gorgeous towns and villages around it boast some of South Africa's top accommodation venues. And amongst these are a number of stunning B&Bs, guest houses, hotels, holiday homes, and boutique retreats ...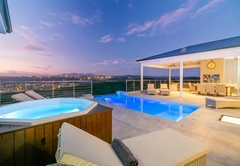 Garden Route
Pictured: Pezula A Piece of Paradise in Knysna
What a pleasure to spend your days exploring the mountain trails, lazing on the beach, tasting wines, bungy jumping, mountain climbing, and visiting the many local animal sanctuaries. Then, head back for sundowners in the heated tub and sav...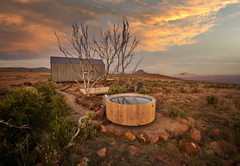 Eastern Cape
Pictured: Mount Camdeboo Pods in Graaf Reinet
The Eastern Cape is a really special holiday destination. It's characterised by vast beaches, endless expanses of scrubby bushveld, quirky towns, rural Xhosa villages, and friendly folk. The best way to enjoy this serene setting is from the...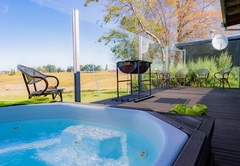 KwaZulu Natal
Pictured: Brahman Hills in Nottingham Road
There are so many things that make KwaZulu Natal special – the warm sea waters of the Indian Ocean, the emerald green of the mountains inland, the deep Zulu culture, and the vibrant cities and towns along the coast. What a spoil to enjoy th...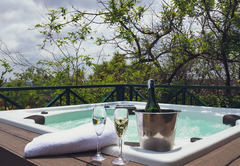 Gauteng
Pictured: Cussonia Country Home in Pretoria
While Gauteng has its fair share of glitz and glamour, it's also a province of real natural beauty and a scenic countryside. The capital city of Johannesburg has green, leafy suburbs and is close to the ancient mountain range of Magaliesbur...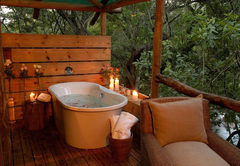 Mpumalanga
Pictured: Summerfields Rose Retreat & Spa in Hazyview
After a day exploring magnificent landscapes, seeing wildlife, and possibly even partaking in some adrenalin-pumping adventures, you're ready to get serious about relaxation. This is the perfect time to fire up the hot tub and have a soak a...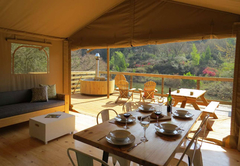 Limpopo
Pictured: AfriCamps at Magoebaskloof in Magoebaskloof
Limpopo has an ethereal quality, thanks to its mystical, dramatic landscapes. It's gorgeous countryside is the pristine home of wildlife and the reserves they live in, making this a nature-lover's favourite destination. Now add in a soak i...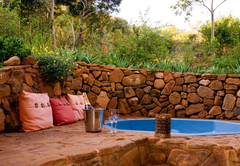 North West Province
Pictured: Phefumula Country Retreat in Maanhaarrand
The North West Province boasts open plains, mountains, and the clear, high skies of South Africa. It's most notably home to the Magaliesburg Mountain Range, Cradle of Humankind, and Sun City. Because of these stunning tourist attractions, i...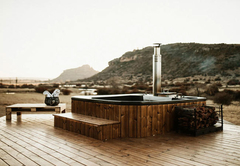 Free State
Pictured: The Rosendal Country Retreat in Rosendal
The quiet and vast Free State has a fantastic variety of guest houses, hotels, lodges, apartments, and B&Bs. Each offers something special and unique and, for some of these spots, that includes an outdoor hot tub, which is the perfect place...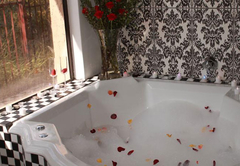 Northern Cape
Pictured: Villa Mexicana Guesthouse in Kimberley
This province is a unique juxtaposition of rugged coastline, arid landscapes, and colourful eruptions of blooms in spring. One thing is for sure – the Northern Cape simply has to be experienced. Start and finish your days of exploring in th...
Why Book with
SA-Venues.com
Get detailed information about each accommodation provider offering a jaccuzi or hot tub, good quality images (exteriors and interiors), read guest reviews, compare rates and discounts, and make direct bookings with your chosen jacuzzi / hot tub accommodation. You pay no booking fees when making your reservations via the SA-Venues.com site and all properties are verified accommodation providers.
Secure payments
Accredited establishments
Deal direct and save